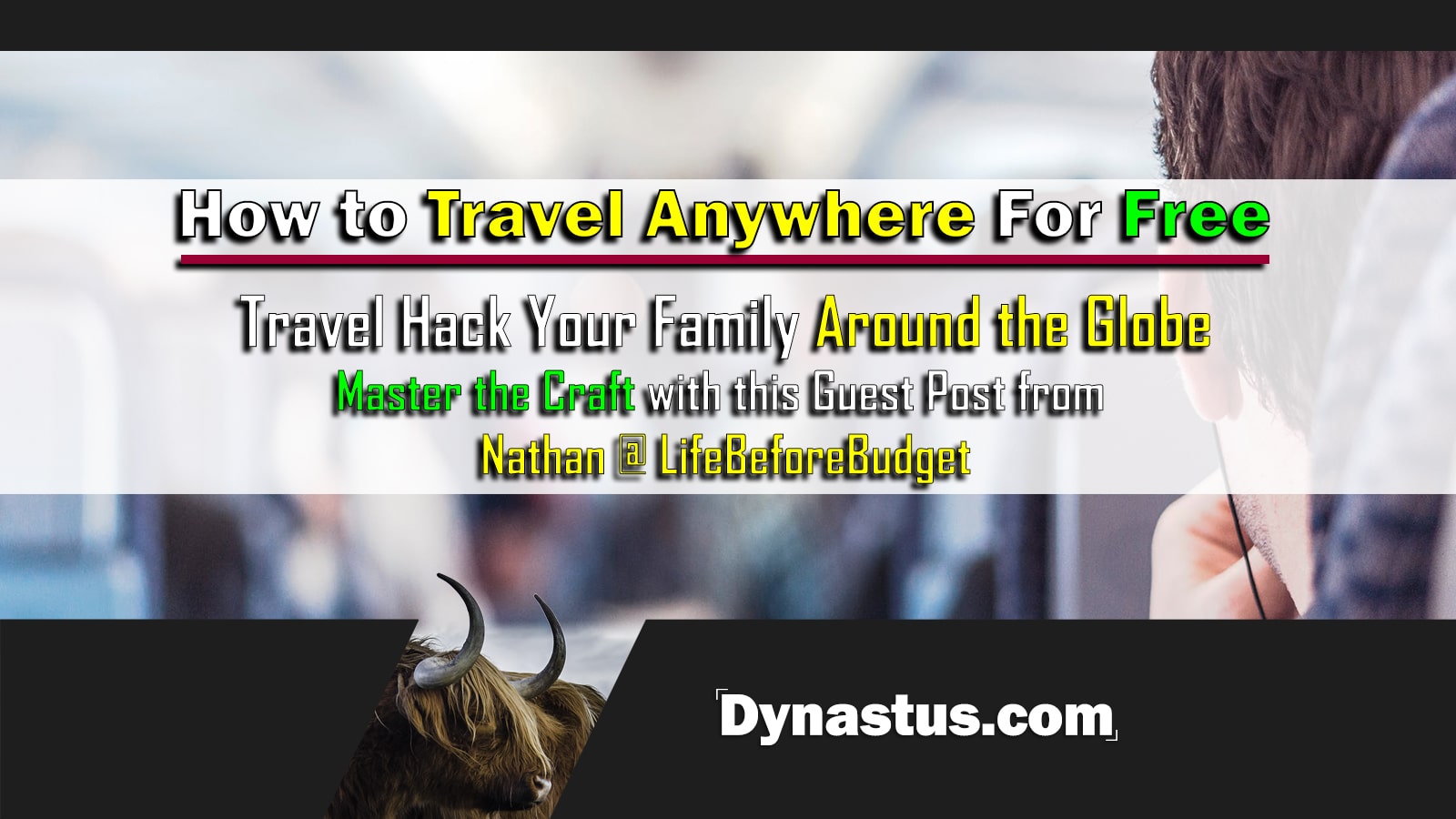 Below is a guest post from Nathan over at Life Before Budget. Nathan is passionate about travel hacking as well as budgets and personal finance in general. As anybody who knows me…uhh knows, I'm no travel bug(at all). So I asked Nathan over to contribute some content on how to travel more for less. Thanks, Nathan. Looking forward to more from you over on your site in the future!
How to Travel Anywhere For Free
Hi everyone!
First off, I want to give a huge thank you to Ben for asking me to create a guest post about travel hacking on his site! I absolutely love travel hacking because it allows me to vacation for free or significantly less than I would have paid. For instance, I am saving over $6,800 on my trip to Hawaii this summer, I went on a first class trip to New York City for $22, and I have saved over $30k on my travel over the past few years.
If you want to find out more about how you can travel for free or how to use money to help you live a great life, just check out my website Life Before Budget.
~Nathan
What's the catch?
Whenever I hear about someone talking about getting something for free, I always think that there must be a catch. I'm sure that must be what you are thinking right now, especially if you haven't heard of travel hacking.
You are probably thinking that some random dude on the Internet is trying to sell me a timeshare or something, so that I can get "free travel." And I know exactly how you feel. After all, I was in your exact same position when I first heard of travel hacking a few years ago.
I thought that it couldn't be true. There isn't such a thing as free travel … and if there is, I will definitely have to give up something valuable to get it.
However, after researching a bit more, I found that a lot of websites were basically saying the same thing. There really is a simple way to get free travel.
I decided to try it
One thing that I am open to is trying something. Just like when Ben bought $20,000 worth of Pokémon cards(This is a pulled post as it was video focused) and started a Pokémon business, I'm always open to something new. Fortunately, my wife and I were flying from our home in Michigan to Texas for a friend's wedding in a couple of months, so this gave me a perfect opportunity to try this whole travel hacking thing.
So I did a bit of travel hacking … and it actually worked! We received our entire $600 flight for free!
Of course, this got me thinking that maybe there is such a thing as free travel. So I went all in! I got free hotel rooms, more free flights, free gift cards, and even some cash. Like I said before, I have saved over $30,000 on travel over the past few years!
I am on the extreme end of this free travel equation, but it actually is really easy to save $3,000 or more on travel!
Here's the secret
Ok, maybe you are convinced that there might be something to this and that it actually is possible to get free travel. The first thing that you need to know is that free travel is made possible by applying for and using credit cards. I hope that this doesn't scare you away, but if I did scare you, just remember that I was skeptical when I heard about this at first.
In the United States, people who have a good credit score can sign up for credit cards that provide bonuses in the form of cash back or miles that can be used towards travel. Unfortunately, these bonuses may only account to 1 or 2% of spending.
For instance, if you spend $100 on a credit card, you may get a cash back bonus of $1 or $2. Now you and I both know that this is good … but not life changing.
However, the magic of using credit card rewards to travel hack comes in the form of the initial spend bonuses from these credit cards. For instance, the Chase Sapphire Preferred Card offers a 60,000 point sign-up bonus when you spend $4,000 in the first 3 months of card membership. This bonus can be worth $750 or more on travel.
Think about how powerful this is. Just for spending $4,000, you can get $750 in free travel. That's a 19% return on money that you would have spend anyways!
Plus, all of this money is tax-free. So $750 is really equivalent to $1,125 or more for those of us who live in the United States!

See you there!
But I'm still scared!
If you are like me, you may still feel a little trepidation about using credit card rewards to travel hack. Honestly, I completely understand that. I felt the same way so I did a ton of research before I finally got my first rewards credit card.
Honestly, you should do the same thing! Doing research will help you to get comfortable with this topic that you might have just heard of for the first time today. It also will help you to become familiar with the credit card space and how these travel reward credit cards can help you out.
Some of the questions that you may be asking include some of the same ones that I asked when I started:
Question 1: How will this affect my credit score?
This is by far the most common question that I hear and the biggest question that I had. The short answer is this will do absolutely nothing to your credit score! Over the past several years, my score has fluctuated between the high 700s and the low 800s and it has actually increased by 4 points since I started travel hacking. Other travel hackers report similar changes to their credit scores.
The longer answer is that opening a credit card does temporarily decrease your score by a couple of points, but you will usually get these points back as you use the card.
Question 2: Are reward credit cards for me?
Unfortunately the answer to this may be no. For instance, credit card rewards are pretty easy to come by in the United States, but not so much in other countries! Therefore, it makes sense to check out the rules and regulations of your particular country before you look for reward credit cards.
Even if you live in the United States, you shouldn't use reward credit cards if you have credit card debt, aren't organized, or will spend more money just to get the reward. Even if you can get thousands of dollars in free travel, reward credit cards aren't advantageous if they cause you to go into debt and spend more money!
Question 3: What exactly do I need to do to get started?
Well, I'm so glad that you asked that question! Let's tackle that question in our next section.
How to start
Starting with travel credit cards is as easy as picking a card, signing up for it, meeting the early spend bonus, and then using it for free travel. It really is that simple!
As a matter of fact, I put together a great guide over at my website that will show you exactly what to do. This guide will show you:
What travel hacking is.
Who should travel hack.
The difference between types of credit cards.
Which card you should use to get started
Most importantly, it will show you step-by-step action steps to get started with travel hacking. I even make the claim that you can save $10,000 on travel over the next 3 years, just by following the steps in my guide!
Just click here to check out this guide that is geared for anyone from the beginning to the advanced travel hacker.
Thanks
I hope that this article has been a useful introduction to travel hacking. At the very least, travel hacking can be a good skill to put in your toolbelt as you look to build intergenerational wealth.
I also want to thank Ben for asking me to drop a few words on his website. If you just found his website, make sure you stick around and read a bit of his story. I really have found that Ben presents a unique way of looking at things. Also, check out and subscribe to his YouTube Channel.
Thanks for reading and enjoy all of your free travel!