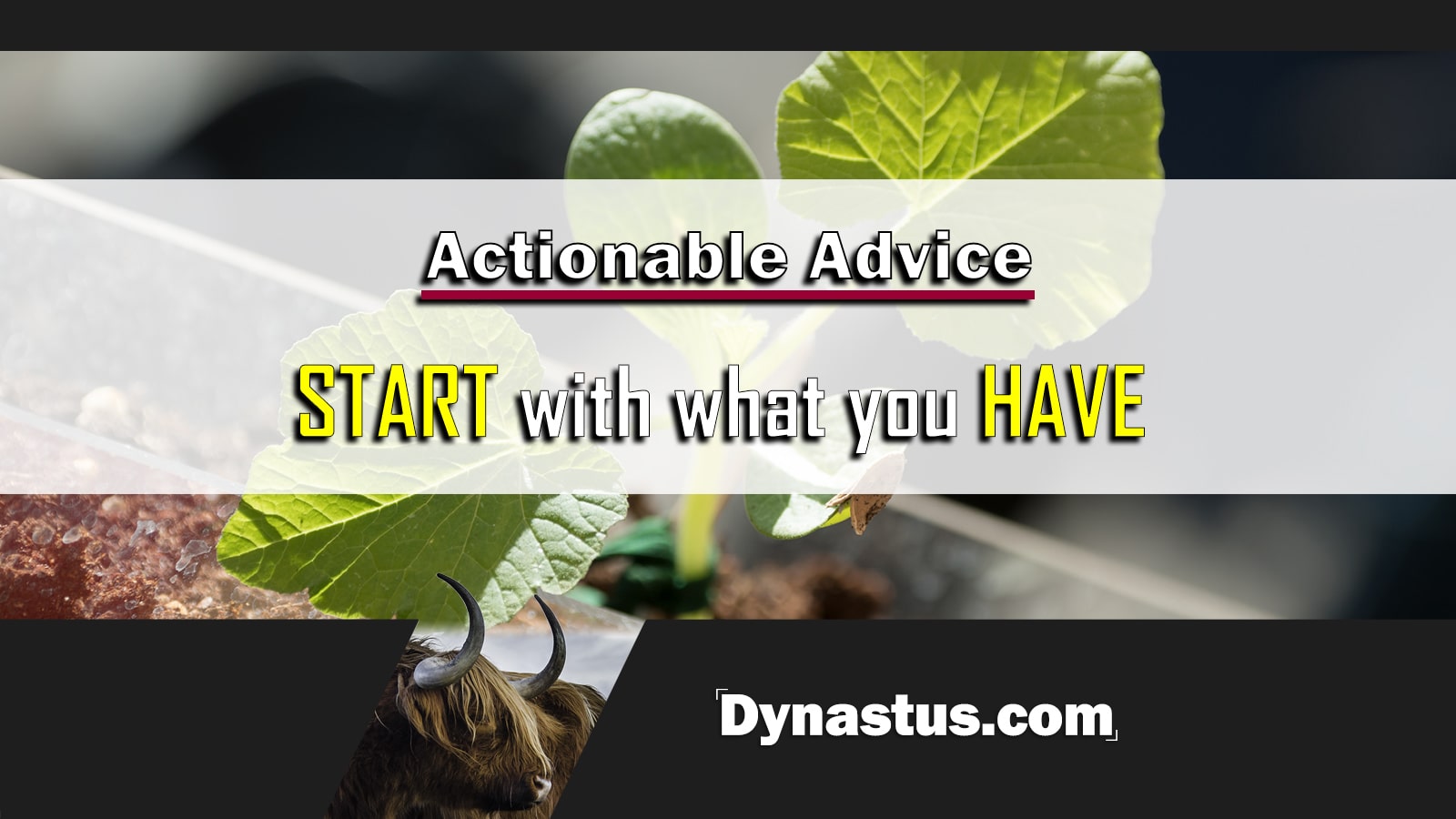 Disclaimer: I am not a financial advisor and this page exists to aid you in your research, but not make or suggest decisions for you. Further research is recommended for you to draw a conclusion of your own. Additionally some links contained on this page may be affiliate links in which Dynastus will receive a portion of sales at no additional expense to you.
Note from 2020 Ben: This is a post I wrote a long time ago. I've since leveraged this concept further to build out multiple eCommerce businesses, a mid-six figure investment portfolio, have a larger family, and have adopted a more conservative, family oriented approach to life. This said, some of the advice may not reflect my views today.
So this is it. The inaugural post. You made it. It was a tough decision to start this project, yet here I am. It's currently 7:24 pm and -oops now 7:25- after much thought and listing the next 30 posts, and planning for far too long, I decided to apply the 'start with what you have' principle. That is to say, I started with the preparation I've made thus far, the skills I have and the time I have. It's been busy as of late, my electrical contracting has picked up and my wife is currently pregnant with our first child.
Start With What You Have
So what does it mean to start with what you have? This is a phrase I heard somewhere, sometime that just stuck with me – it means a lot of things to a lot of people, but it's an important phrase for anybody, on any journey.
To start with what you have is to use what talent, work, weight, fitness, cash, woes, thoughts or just about anything else to do something. In short, it means stop making excuses, and to start now. If you're overweight, that's no excuse to eat more and not exercise – have a smaller portion, and walk for 20 minutes 3 times a week, that's an hour – less than a movie. You could even listen to an entertaining/educational podcast or audiobook on the walks – 2 birds, no excuses.
So let's start at the start. What do you have?

Taking Stock
You may already have a goal, or still be unsure of what it exactly is you're trying to achieve. Regardless, the destination isn't important yet. You need to know where you are to find where you're going. So the first step is to list everything you can think of that is relevant to your lifestyle. We call this taking stock. It's kind of similar to taking stock of your Human capital(future Ben stepping in to add a link here)
This can mean skills, fitness, wealth(or lack of), debt, connections, hobbies, toys, tools, time, vehicles, family, location…ANYTHING. It really helps if you write/type these down because you can really only hold 7 things in your short-term memory to be readily accessible.
Ideas for what to write down:
Tools (lawnmower, trade tools, computer)
Free Time Slots
Land/Real estate/Family Sanctuary
Your Job/Career/Business
Skill sets (instruments/sports/knowledge etc.)
Health/Wellness/Fitness
Finances(Cash, Debt, Access to lending)
Bills(Hear me out on this one – example a bit further down in the post)
Family(Kids, parents, partners etc)
Hobbies/Interests (Gaming, Cooking, Crafting, Gardening)
You don't have to go too crazy, or you'll have to cross "paper off your list"(or time hah). Leave a bit of space free at the top of your list and get busy. You'll want at least 10 things, if you get stuck you can continue on, but aim for 20+ if the creative juices are flowing. You can do this now before reading on. Obviously, you have the time, right?(you're reading this spending time now) It's cool. I'll wait.
Writing things on paper makes them feel more real. There's a certain material permanence to it I suppose.
Some Assembly Required
Ok, now that's done, you'll need a general purpose – we aren't talking reaching enlightenment here. Having a general vicinity will help though. I know you have an idea of what it is you want, or else why are you reading this?
Maybe you want to earn some extra cash, or meet new people, start a vending business buy a house or pay down debt. Whatever your objective is, you now have a list to get creative with and start with what you have.
Some ideas for goals:
Save more money
Meet new people
Start a business
Free Up Time
Spend More Time with Friends & Family
Now's the time to fill out the top of your list with this goal. Doesn't have to be hyper-specific, just think of why you started reading this post, and write that down. And don't be esoteric, if 'be happy' is your goal – writing a list of what you have won't help you. You need to find purpose and fulfillment to find happiness in yourself – only you have the power to get yourself there.
The Missing Link
Here's where things get interesting. You're going to draw links between the things on your list and your goal.
The idea is to find how the things you have now will help you achieve that goal. Now, not everything on your list is going to help you with every goal. If you want to meet people, I don't think bills or a lawnmower will help you achieve this – at least not reasonably anyway.
Don't cross anything off, instead, in a different color, or in brackets, next to each item on the list, write how it can help you achieve this general goal. Be as liberal, silly or serious as you want – nobody's going to see this list you don't want to. The idea is to get all of your ideas out to try to use what you have to achieve your goal.
At this point, your list is going to be fairly tailored to you so I will show you an example of what my "start with what you have" list that I made when I left work. I don't have the actual list – that's been burned long ago, so I'll do a quick filtered down one.
Goal: Not Have to Get Another 'Job'
Have[Link]:
Time[Sell this at a higher rate than in employment, then use that money for furthering other goals]
Electrical License[Can Do my own Electrical Work]
Crappy Green Van[Deliver/Pickup things?]
Contacts in Wholesalers[Ask for people looking for part-time contractors]
Contacts with Electrical Businesses[Ask Around for Work]
Tools[Do my own work/build my own garden beds]
Laptop[Run Something Online]
Experience Managing WordPress Sites[build these for myself/others?]
Rental Properties[Can I get more rent or a better return from selling these?]
The desire to Build Leverage-able Income Source[Entrepreneurship, use the time to flesh out some of my ideas, buy business]
The payout from Holiday back-pay[Cash to start something or invest?]
Experience Running E-Commerce[Start E-Commerce Business]
Backyard[Use for something to save or earn money, Garden?]
Gardening Experience[Grow More of My Own Food]
Bundle of Seeds from my Last Garden[Plantable]
High Phone Bill[Not needed for work/entertainment any longer]
Frugal Mindset[Make more of my own food/stuff]
Investing Experience[Allocate funds more appropriately to maximize return?]
How I applied this:
I wound up following through on a few of these. I used my free time, cash and tools to build garden beds and put chickens in our backyard[saving money on food]. I also used my crappy green van to pick all the materials up. Next, the new found free time I had(plants tend to grow themselves) was spent to do some online courses, read some books and renegotiate pricing my some of my bills(halved the phone bill). Using my laptop, I bought a business from Empire Flippers which I struggled to build up(I sold this later for a small profit, but only from earnings). I tidied up and increased the rent in some of my properties. And finally, with my time, I went away on a 2-month all-expenses-paid electrician stint thanks to asking around my network.

Garden Beds and Chicken Pen
While this wasn't ideal – neither was everything I'd built at that point unraveling. By working with what I had I was able to build a new, alternative lifestyle that didn't involve me working crazy hours, getting sick and feeling empty. Despite a rough start, I was earning more (hourly) than I was when I left work. Not the most I'd ever earned in my life(that was at the peak of my electrical career) but more by the hour, with more free time and much, much better health. For the record, I really enjoy owning chickens and gardening too, most of the time anyway.
How To Apply Your List
So how do you prioritize your own list? You start with what you have: the most obvious answer. If your goal is to reduce debt, you might ring up your billing companies to negotiate a reduction. Internet and phone are the easiest to do this with, but you can often renegotiate other utilities too. Failing this, reducing your consumption of these utilities would help too. Turn the heat down, take shorter showers or turn lights off when not using them. These are all tiny steps, but they're also relatively painless and will save you money that can be put to paying down debt…which will reduce expenses to snowball the debt repayments.
If you want to meet new people, pay special attention to your hobbies and interests. If you're into gaming and have a laptop and mic, try using voice chat in the games you play. Or if you have a hobby eg board games/cooking/sport or anything really, and have time, check out a site like meetup.com. You can find other people in your area with similar interests relatively easy.
Whatever your goal is, draw links between what you have and what you want. It may even mean selling what you have to get what you want. There will be trials, effort, and sacrifices, but nothing worth having ever came easy.
Just the beginning
This list isn't going to solve all of your problems and shouldn't be viewed that way. Only through deliberate action will you achieve the goal you're hoping to achieve. Your list will give you clear options on your pathway to achieving that goal. Your next step is to take actions towards it.
You can only work with what you have. If you want more, you have to leverage what you have to create, attain or achieve it.
I'd love to hear how you got on. I can also make a list template for you to download if you're interested. Let me know in the comments below.
Thanks for reading. Yours,